Harley-Davidson
× OXFORD PENNANT
At Oxford Pennant, we've long collected a number of motorcycle pennants from bike manufacturers, fans and races over the years. When the Harley-Davidson Museum (Milwaukee, Wisconsin) asked us to take on a project that dove deep on the rich history of biker culture, we had to go along for the ride.
In the early 20th century, motorcycle companies used to sell or give away pennants with bikes. The idea was that riders could easily fly the flags while cruising down the highway or hang them from handlebars when parked to proudly represent their favorite brand.
The Inspiration
A vintage Harley-Davidson pennant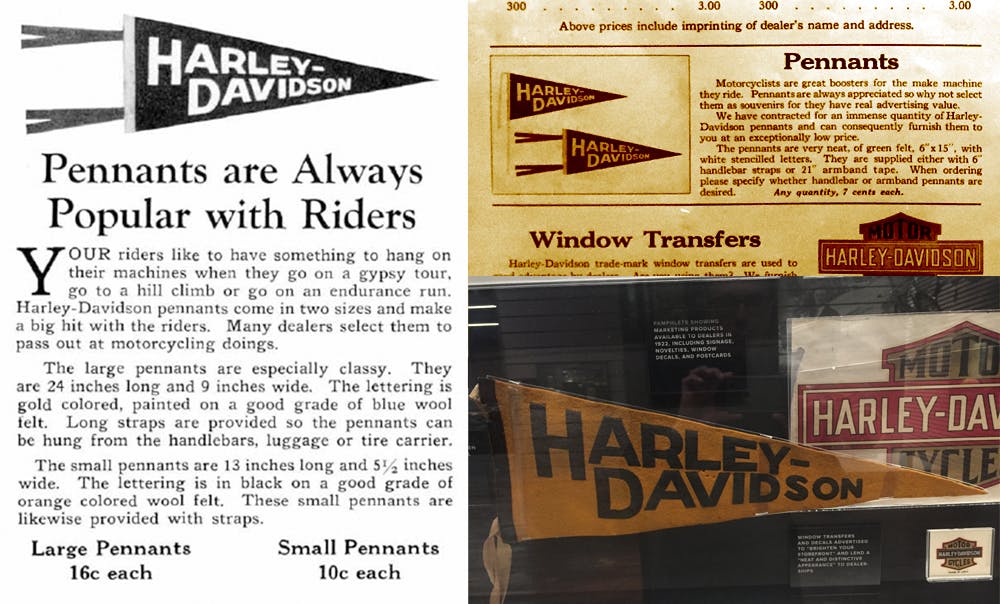 The folks at the Harley-Davidson Museum wanted to revive this tradition by recreating a selection of classic Harley pennants. Through collaborating with the knowledgeable and passionate museum team, we designed and produced original pieces inspired by classic designs to be hung throughout the museum.

In addition to the display flags, we created souvenir pennants with the Harley-Davidson logo and a series of minis featuring classic motor designs, including the Knucklehead, Shovelhead and Panhead engines to be sold in the museum shop. 
The museum is a testament to Harley-Davidson's legacy of American innovation and craftsmanship, and we're beyond proud to contribute to the celebration of that tradition with our American-made pennants.