About Our Products
What is difference between pennant, camp flag and banner ?
Great question! Pennants are our classic triangular flags with printed designs, and camp flags and championship banners are often four- or five-sided. Camp flags are typically smaller than banners and feature printed graphics, while banners are often larger-format with stitched designs. All three include sewn banding or borders.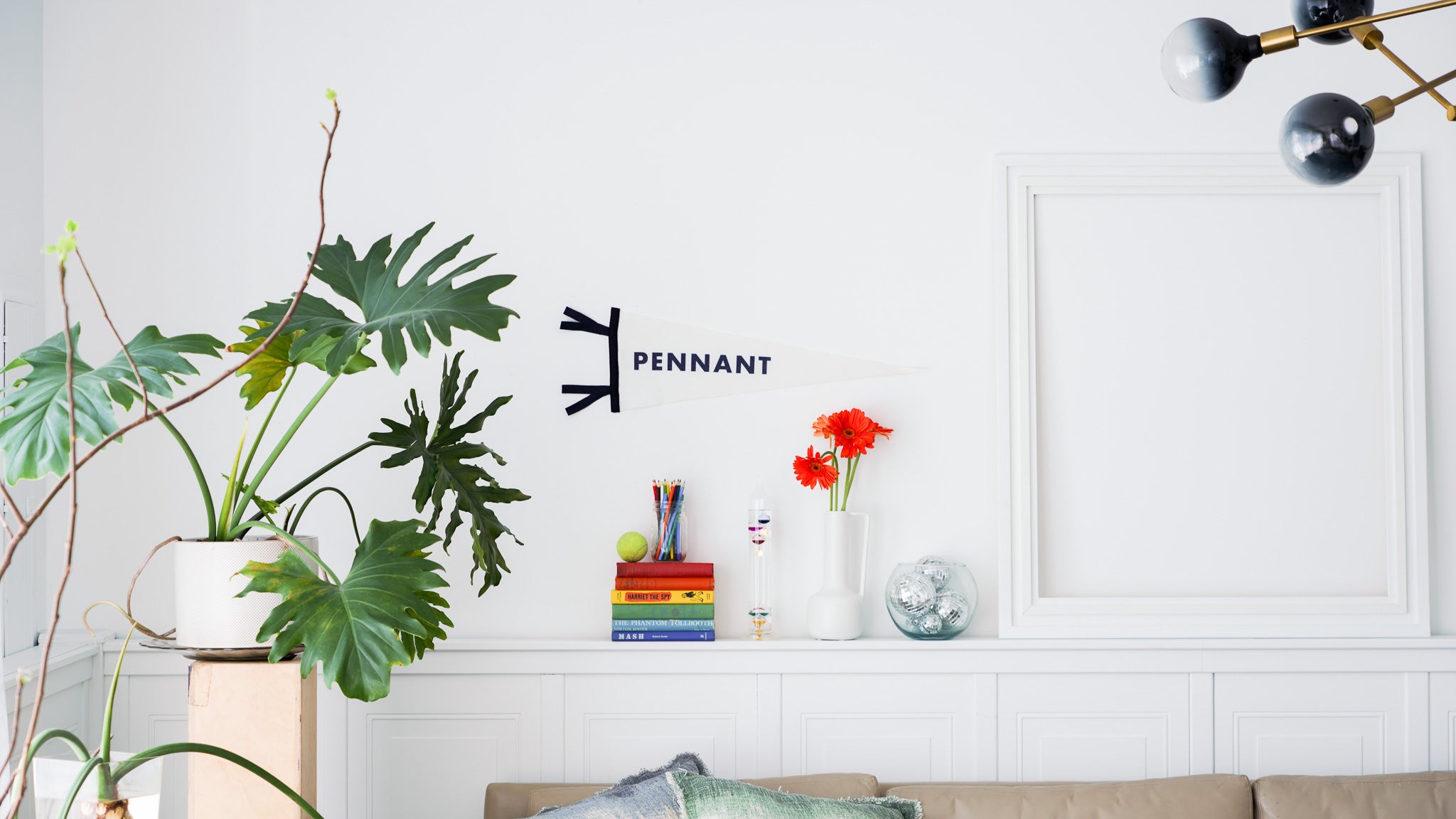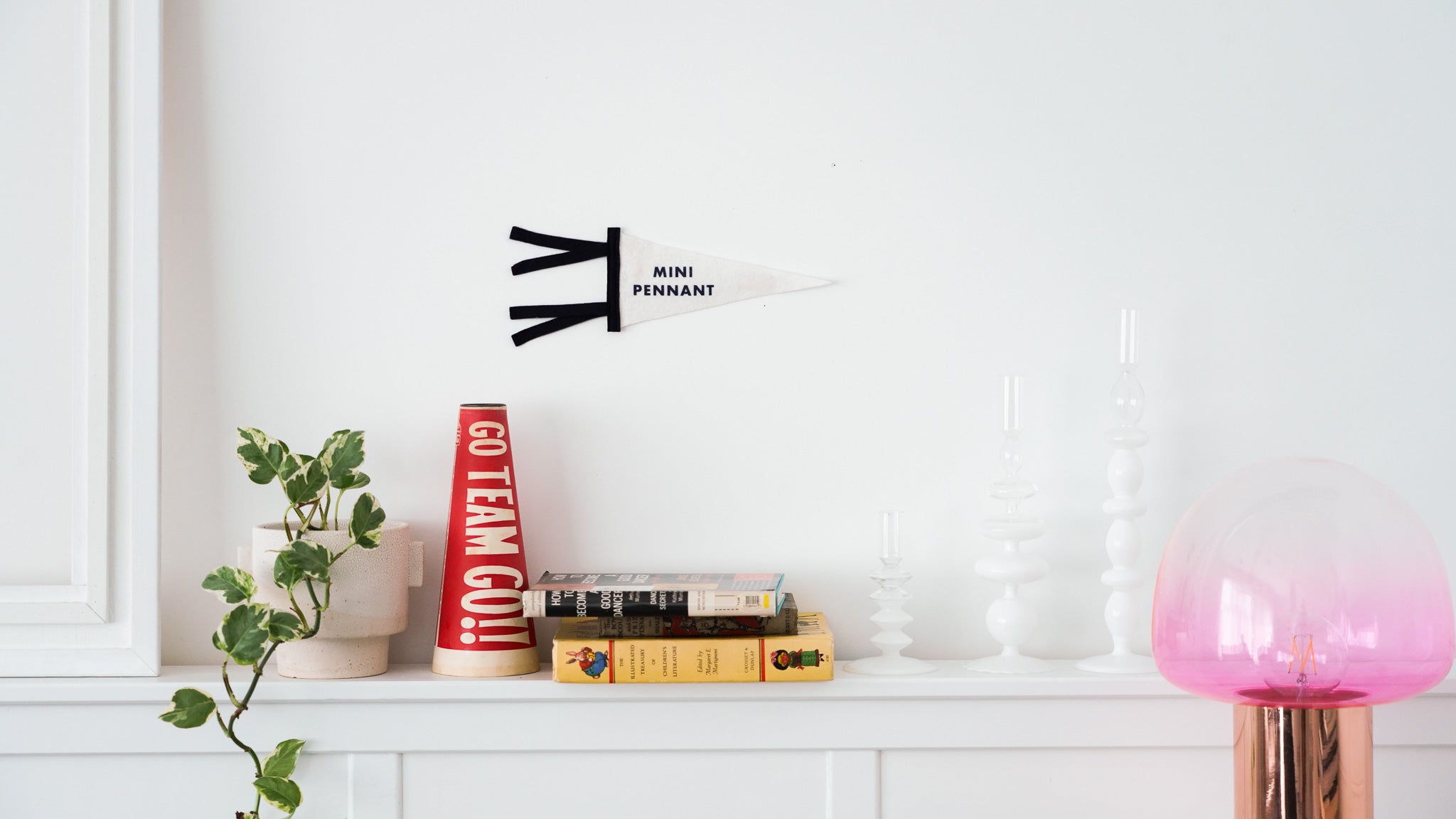 How do I find a product that I saw on social media on your website?
Easy! Type the words or a defining characteristic (i.e. "heart," "skull," "panther," etc.) on the flag into the search field at the top of our site.

If that doesn't do the trick, it could be a custom that we designed specially for a customer. Don't worry, friend, we can create a custom for you too!
What are your products made of?
All of our house pennants, camp flags and banners are produced with wool felt blend.


How are your products made?
All of our products are made using a hands-on process at our manufacturing studio. We design, cut, sew, print and ship everything in downtown Buffalo, New York!
Are your products weather resisitant?
Only our products with "Outdoor" in the name are weather resistant and intended for outdoor use. Check 'em out!

But wool felt? Exposed to the elements? Don't bother.
Can I use my custom pennant artwork for my _____ (wedding invites, t-shirts, website, etc.)
We're usually happy to release art files, depending on the application. Fees may apply. Email us!
custom projects
How do I order a custom pennant or banner?
How are custom projects made?
Custom projects usually take about four to six weeks to ship from the date of artwork approval. Please be aware that the date of artwork approval is different than the date of the request.

Need it faster? Let's talk!
Can you match your felt colors to a pantone color?
Nope! But we can match pantone colors in screenprinting and we offer roughly two dozen felt color options. Our fully stitched flags and banners are limited to the felt colors that we stock.

Let us know what you have in mind and we'll work with you to come up with a creative solution.
How much do custom projects cost?
Projects vary on size, complexity, colors, turnaround time and more! Email us at oxford@oxfordpennant.com or fill out this form with your ideas for a quote on a project!
Do you design logos?
Nope! We're just a humble pennant company, friend. If you'd like us to design something that's not a logo and put it on a pennant, we'd be happy to oblige.
Framing
How can I have a retail or custom product from Oxford Pennant framed?
There are a few of things to know:
Frames cannot be sent on their own. If you try to frame a pennant at home you will be so, so disappointed. Let us frame it for you!
Frames are available in black, white and natural wood
All frames are made to order in our hometown of Buffalo
A frame must be purchased in the same transaction as a separate pennant - if you order multiple pennants, we'll email you to discuss which should be framed
The framing process takes approximately 15 business days as long as the pennant is in-stock
Price includes UPS ground shipping within the Continental US - international customers, please contact us for more info
All frames are final sale.
Can I have a vintage pennant that I own framed?
Absolutely! Framing is a great way to hang and preserve your vintage pennant. Send us an email and we'll work with you to coordinate shipping and help pick out the right frame to highlight your classic flag.
General
Are you hiring?
Is your retail store open?
Our retail store, located at 731 Main Street, Buffalo, NY, is open Thursdays through Saturdays, 12pm-6pm. Our online store is always open and our team is hard at work fulfilling your orders. Tell us where you live and we'll ship it right to your door! We're good like that.
What is the most popular Goo Goo Dolls album?
Great question! It's A Boy Named Goo.
How do I send a message to Oxford the dog?
Remarkably, Oxford doesn't know how to read, but if you want to email us to tell him he's the goodest boy, we'll be sure to pass your message along.
Gifts
How do I send a package as a gift?
It's easy! Just click the box next to "Is this a gift?" in your shopping cart so we know that we're leaving the invoice out of the package, big spender.

All of our shipments come neatly packaged in our branded boxes with tissue paper. We'll even include a handwritten "To" and "From" tag in the box.

We do not offer custom messages at this time.
Do you sell gift cards?
We sure do! All you need to do is pick your amount and a digital gift code will be emailed to you after checkout with information on how to redeem. No additional processing fees!

If your gift recipient isn't hip with the times, email us and we'll mail you a physical gift card. Shipping charges apply.
How do I use my gift card?
First of all, congratulations on having great taste and being difficult to shop for! We're the same way.

To use your gift card, simply enter your code when prompted during the payment portion of checkout.
Returns + Exchanges
What is your return/exchange policy?
In the unfortunate scenario that you need to return or exchange your order, here's some helpful info to keep in mind:

Return for Refund
- 30 days from ship date
- Not eligible for custom or vintage products

Return for Exchange
- 60 days from ship date
- Not eligible for custom or vintage products
All returned items must be in unused and unworn condition (when applicable) and returned in original packaging. 
Oxford Pennant will provide a pre-paid mailing label for returns. The cost of this return shipment ($9 flat-rate within the US) is the responsibility of the customer and will be omitted from refund (additional fees may apply for international returns). 
A refund or exchange will be processed upon receipt of return. 
All sales on frames, vintage items, and custom projects are final. 
You can begin a return/exchange process here.
Or contact hello@oxfordpennant.com for assistance with a return or exchange.
How do I process a return/exchange?
We're as bummed as you are that your order didn't work. You can get started processing a return here or by emailing us at hello@oxfordpennant.com.
Shipping
How long will my retail order take to ship? Will I be notified?
We offer a variety of shipping options at checkout for our house products, which ship Monday through Friday. Shipping may take longer during high volume times. Orders that are placed using standard methods of shipping (or fee shipping) are sent within a week of purchase as long as the item is in stock. Orders received after 3 p.m. are not eligible for shipping until the following day. Expedited shipments placed after 3 p.m. on Fridays will not be shipped until the following Monday. 
We like to keep you in the loop, so you'll receive a purchase confirmation email and a separate communication with tracking info once your order ships.
Custom orders are a completely different beast and vary greatly based on the project - from a couple of days to several weeks. If you're interested in learning more about our customs process, check out our customs page or shoot us a message.
What shipping options do you offer?
We have multiple shipping options for your order at checkout, including USPS, UPS and Flavorcloud, a third-party service for international shipments. If you qualify for free shipping, the order will be sent via USPS First Class Mail, which usually in about three (3) business days during low-volume times. Shipping in December? All bets are off. If you need it quickly, select a UPS shipping option.
Do you ship internationally?
Of course! International shipping rates apply. More information is available at checkout.
I need it yesterday! Can I pay a rush fee?
Shopping for a last-minute gift and need it fast? We do offer expedited shipping, but it'll cost ya! How much, you ask? Send us a message and we'll share options with you.
Why did only some of my items ship?
We do our best to send your full order in one shipment, but we know you're as excited to receive your new pennants as we are to send them! In some cases, if an item is out of stock or backordered, we'll ship the products we have in-stock first. Who doesn't love getting more packages?
wholesale
I own a retail business. How can I carry some of your stock products in my store? 
Wholesaling with us is easy! You can apply for a wholesale account at wholesale.oxfordpennant.com. We try to review applications within 72 hours. Once approved, you'll be able to order directly through our site!
International fees and duties may apply.
If you have questions or want to order something that you don't see on our wholesale portal, drop us an email!