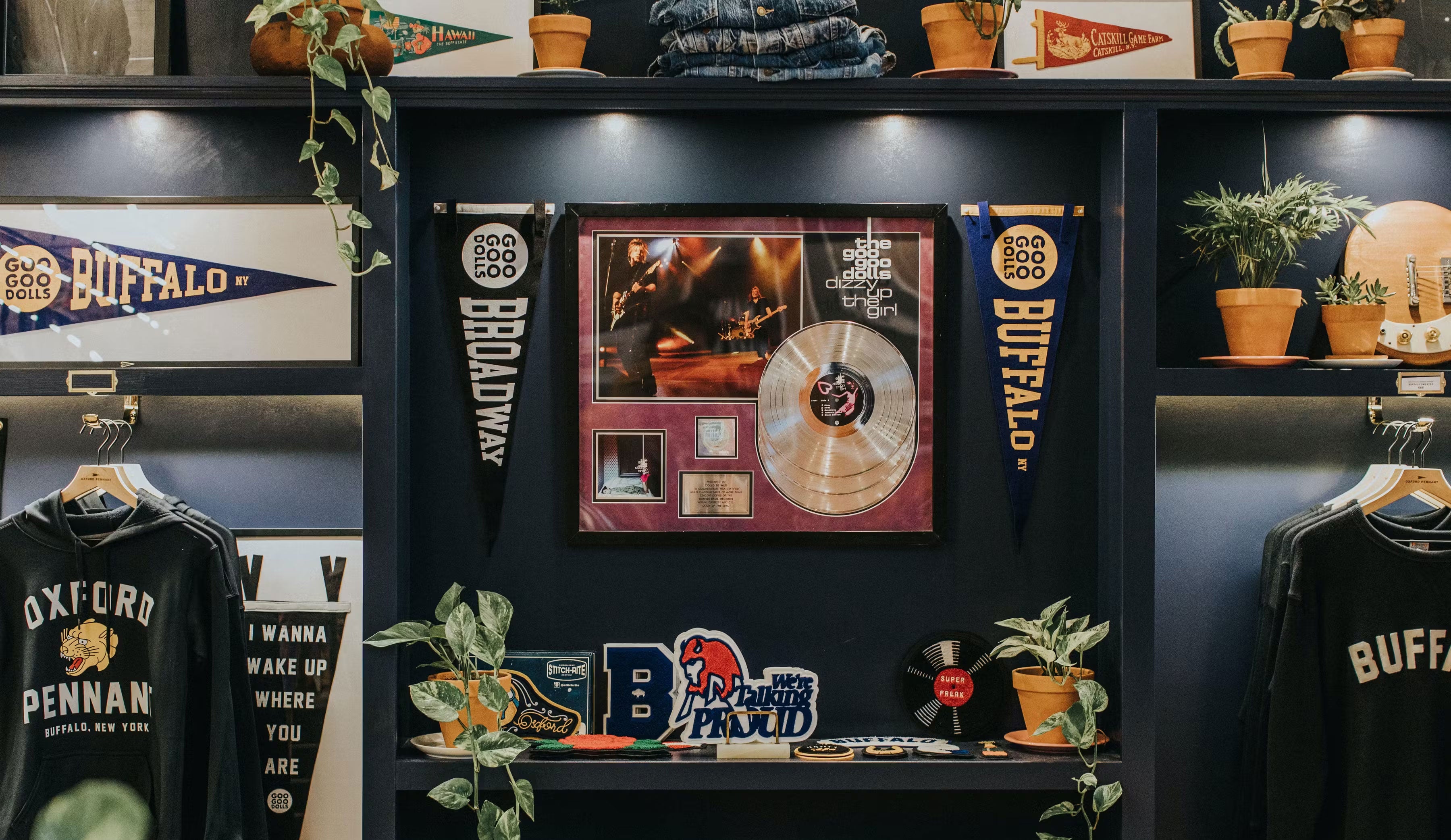 Goo Goo Dolls
x Oxford Pennant
I WANNA
WAKE UP
WHERE YOU ARE
I WANNA
WAKE UP
WHERE YOU ARE
I WANNA
WAKE UP
WHERE YOU ARE
I WANNA
WAKE UP
WHERE YOU ARE
I WANNA
WAKE UP
WHERE YOU ARE
I WANNA
WAKE UP
WHERE YOU ARE
I WANNA
WAKE UP
WHERE YOU ARE
I WANNA
WAKE UP
WHERE YOU ARE
I WANNA
WAKE UP
WHERE YOU ARE
I WANNA
WAKE UP
WHERE YOU ARE
I WANNA
WAKE UP
WHERE YOU ARE
I WANNA
WAKE UP
WHERE YOU ARE
As native Buffalonians, we reached Western New York nirvana when we were called upon to create a custom collection for our hometown heroes the Goo Goo Dolls.
When Johnny Rzeznik, Robby Takac and the gang celebrated the 20th anniversary of "Dizzy Up the Girl" with a multi-night stint at Shea's Performing Arts Center, they entrusted their friendly local banner makers at Oxford Pennant to design merch and host a pop-up shop at our Main Street storefront.
To prepare for the event, the space was outfitted floor to ceiling with limited edition Goos gear. The collection included custom-designed pennants, stitched and screen-printed banners and camp flags, vintage-inspired tees and sweaters, enamel pins, limited-run vinyl.

We also set up an interactive wall (that's a fancy way of saying corkboard) where longtime Goos fans could share their favorite memories of the band.